Whenever people feel that it's time to introduce some regular exercise into their routine, there's two types of training they tend to lean towards; cardio and resistance training.
It's important to make sure that your training programme matches your goals and you're not simply doing whatever you fancy on any given day, that's why clarifying your goals and planning your workouts is so vital to your success.
Resistance training is often thought of for building muscle. It's your typical weight training or any workout that has you pushing or pulling against a 'resistance'. Whilst cardio is what people use to get trim, loose a few pounds by spending a couple of hours a week on the running machine.
The problem here is cardio can be boring. Long workouts that leave you drained and hungry, the same repetitive stuff day in day out. So let's briefly look at what cardio is and depending on your goals, what alternative workouts are available.
What is cardio?
Cardio is short for cardiovascular, which essentially means its about getting the heart rate up and those lungs working. I'll be honest, I'm not training for stamina. I'm not planning to run any marathons so my aim is to burn fat, increase agility and make me fit for short bursts of activity. Typical everyday life stuff; running for the bus, climbing four flights of stairs, playing sports. So my training should reflect that.
If your goal is to be able to run for an hour, then great – that running machine is simulating just that. But it's not adequately preparing you for the other activities I just mentioned. OK point made, so what does this look like? Two words… Agility X
Agility X
Agility X is part of the P90X3 training programme. Each workout is 30 minutes long and the programme takes you through a series or resistance, cardio and flexibility training. 30 mins a day, 6 days a week for 90 days – it'll change your life. I normally avoid all types of cardio, a firm believer in the 'Say NO to cardio' that believes resistance training can be equally used as a method of fat burning. Loosing weight is about two things; eating right and burning calories. Did you notice that 'eating right' came first?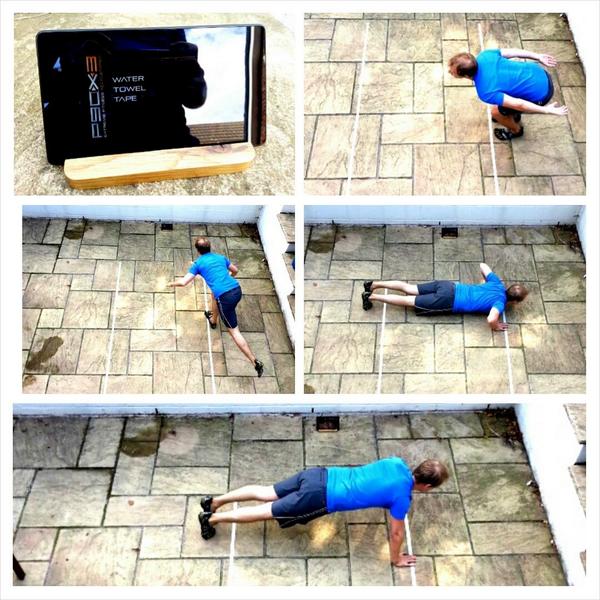 Agility X is the most intense 30 mins of my life. It's two lines of tape on the floor and new instructions every minute. That's right it's still cardio, but you're changing what you're doing every 60 seconds. Imagine how much extra effort you put in to the intensity and keeping good form, when you only have 60 seconds to nail it. That's the beauty of this workout. Tony Horton will have you jumping, running, lunging changing direction and hopefully having fun at the same time. It's a bit like a military drill, except without the shouting and with more smiles.
If you're not ready to commit to the P90x3 programme (and I strongly recommend that you do!) then there are some other things you could do to make cardio more interesting. It's all about increasing the intensity. Find ways to make that exercise intense for 30-60 seconds. Lets take running for example. Instead of running on a machine for 30-60 minutes, head outside for some sprint training. After you've warmed up (never skip the warm up, got to protect yourself) do a series of short distance sprints. I'm talking 30 seconds to run life your life depends on it. After the 30 second sprint, walk for 60 seconds, then sprint again. In a short amount of time you can accomplish a number of sprints that will have you burning more calories than a casual paced jog that lasts twice as long.
Even more ideas
Want something more fun than running? Yeah me too, I can't stand running. Try jumping rope, ok it's skipping, but that sounds like something school girls do in the playground. We're using it as an intense workout, so I call it jumping rope. I've already written a great article about jumping rope including a video to show you just what's possible.
Equally I've also enjoyed kettlebell workouts. This one incorporates some weight, but kettlebell swinging is not about lifting the weight, but swinging it. Using a heart rate monitor I've recorded that in a very short amount of time my heart rate jumps through the roof. Swinging a kettlebell is a great way to train your heart (cardio) as well as working on some core strength and posture.
These are my cardio workouts, you'll never see me on a running machine, but instead I'll be jumping around my backyard, dripping sweat whilst only half-way through my Agility X training. The last thing to say, is to work cardio into your day; sprint for that early bus home, run up those stairs two at a time, build it into your day. There's little point in spending the time training and then taking the elevator. Train for life.
Where to go from here:
Bloomtofit.com – has some great free workouts, particularly the sprinting workout and introduction to jump rope. You'll often find me taking part in one of his Kettlebell challenges.
Tony Horton Fitness – The creator of P90X 1, 2 and 3! Check out his youtube channel for great info and free workouts!
Overcoming Anxiety – My new ebook is out! If you want to learn ways to manage your stress and anxiety in day-to-day life, this book is for you!